Real-Time-Viewer Java Applet (Freeware)
We call this JAVA Applet Real Time Viewer (RTV). We developed this RTV as a pure JAVA Applet. It is freeware and you can add it to you web page inside your company to visualize in real time Syslog traffic on the local machine.
The same JAVA Applet is a part of the MegaLog Syslog Suite. In a MegaLog installation the applet is able to show Syslog streams from any sender, filter rule can be applied and up to 16 sessions can be pre defined. In MegaLog we reserved two sessions for Multicast. This means several admin workstations can view to the Syslog stream on different workstation inside the LAN.
The MegaLog RTV is as well a perfect enhancement for NAGIOS, system network monitoring tool. You can add links to a host or service inside NAGIOS to open a Real Time Viewer Syslog session.
If you need to check the log traffic thoroughly we suggest using the Secure.IP MegaLog suite. If you want to start a Syslog RTV session now, click on the following Link. This applet will start listening on UDP, port 514 immediately. Please be prepared to have a look to your local firewall setting to allow JAVA to listen to this port.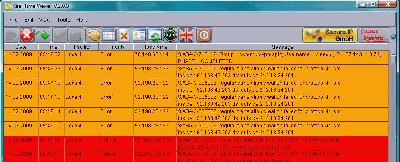 Downloads (Freeware)